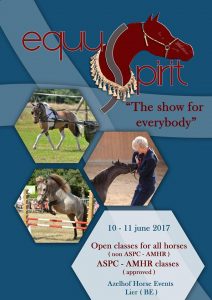 The equuSpirit 2017 show will be AMHR approved and will proceed according to ASPC/AMHR rulebook for all classes.
We offer AMHR rated and non – rated classes along with a limited number A rated ASPC rated classes, AMHR and ASPC papers are required.
Non – rated classes (except Champion classes and NON – AMHR classes) are open to ALL miniature horses under 46" unless stated otherwise.
Show Date
Saterday June 10th – Sunday june 11th, 2017
Judge USA
James Rutledge
Show Manager USA
Nancy Braesicke
Show Steward and Ring Steward
Carsten Jermei
EquuSpirit 2017
Watch all the photos of the show!