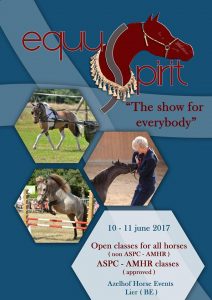 The equuSpirit 2017 show will be AMHR approved and will proceed according to ASPC/AMHR rulebook for all classes.
We offer AMHR rated and non – rated classes along with a limited number A rated ASPC rated classes, AMHR and ASPC papers are required.
Non – rated classes (except Champion classes and NON – AMHR classes) are open to ALL miniature horses under 46" unless stated otherwise.
Show Date
Saterday June 10th – Sunday june 11th, 2017
Follow the show live!

Entry closing date
Entry closes by May 21st 2017, 23h59
Late entries will not be mentioned in the catalogue and will be charged extra.
Entery Fee
All ASPC/AMHR Open Classes: € 15,00
All ASPC/AMHR Amateur classes: € 12,50
All NON – Rated classes: € 12,50
All Youth classes: € 10,00
Stabling
Per weekend per box (1 bag of shavings included): € 40,00
(For security reasons : Max 2 horses per stall )
Extra shavings at 10€ per bag. Special requests on demand.
Judge USA
James Rutledge
Show Manager USA
Nancy Braesicke
Show Steward and Ring Steward
Carsten Jermei